KIDNEY BEANS WITH PEPPERONI - October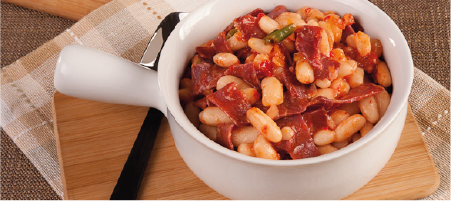 KIDNEY BEANS WITH PEPPERONI
Ingredients:
500 gr kidney beans
Half coil of Gurme Pepperoni
2 pieces of mid-size onion
Quarter cup olive oil
2 table spoons red pepper or tomato paste
Salt
Directions:
Wash the kidney beans and soak them in warm water overnight.
Drain the softened wet beans right before you start cooking.
Chop the onions suitable for cooking and cut the pepperoni in round slices.
Add olive oil, onions and salt in a pot and fry them over medium heat until they turn pink. Add the paste and fry for 1 more minute.
Add the pepperoni and fry for 1 more minute.
Finally add the beans and hot water until the water level is 2 cm. over the beans. Cook for 25-30 minutes with the pot lid closed. Cook until the beans reach the softness you prefer and then serve while it is hot.